What are the advantages of the Type C connector in addition to the opposite side?
Date:2018-11-06 Hits:148
The
type-C connector
provides higher design flexibility for the engineering design of the new generation of electronic products. What are the attractive advantages of type-C connectors?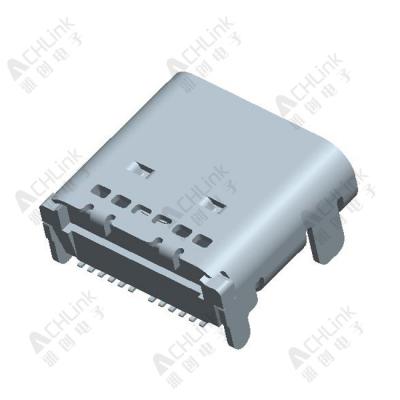 Speed open, two-way transmission
Speaking of the advantages of the new interface, the transmission speed "fast to open and close" is undoubtedly one of the most striking features. The USB Type-C interface solution provided by TE has the fastest data transmission rate up to 10 Gbps, while the data transmission rate of traditional USB 3.0 is only half of that. Imagine transmitting a 1.2G HD video through the USB Type-C interface. It takes only one second to complete the transmission, which becomes the real "second transmission".
USB Type-C interface can support up to 100W power in power transmission, which is 10 times as much as the traditional USB interface. Moreover, in transmission, the power of the old USB port can only be transmitted in one direction, and the power transmission of the USB C port is bidirectional, which means that it can have two transmission power modes. Therefore, users can not only use laptops to charge mobile devices, but also use other devices or mobile power supply to charge laptops.
Flexible and versatile, downward compatible
In addition, the USB C connector provided by TE has the advantages of flexibility and versatility, which can be called "omnipotent interface". This connector supports a variety of protocols. With the help of adapters, it can also be downward compatible with HDMI, VGA, DisplayPort and more interface types through a single USB C port. Whether it's power, data, audio or video, the same USB Type-C interface can be done. It can be said that "everything is safe with one hand".
It is believed that many consumers will be worried when they see the new USB Type-C debut: in the future, all the consumer electronic devices launched by various manufacturers will use the new USB Type-C, so I use the old USB interface mouse, U disk, mobile hard disk and other peripherals will not be used?
It doesn't matter. Manufacturers who use the USB C connector provided by TE don't have to worry about causing such problems to their customers, because USB Type-C can be flexibly downward compatible. Even if the devices in consumers'hands still use various previous USB interfaces, such as USB 2.0, USB 3.1 Gen 1 and USB 3.1 Gen 2, they can be used correctly on the new USB Type-C interface.
Of course, we will not forget the "anti-human design" of the old-fashioned USB "no plug-in is right". In the new type of USB Type-C interface, we have really realized "plug-in for both sides". It is not too much to call it a "double-sided swordsman" in the connector industry.
Anti electromagnetic interference, strong and durable
In addition, TE has provided the leading industry design for USB Type-C in some detail. For example, TE uses anti-electromagnetic interference (EMI) design behind the socket housing. This TE proprietary design can help eliminate redundant EMI leakage and provide better performance for users than traditional products of the same type.
Such details are also reflected in the fact that TE products are equipped with additional design to enhance the maintainability of connectors on board compared with other standard pin packaging products, which greatly increases the durability of products and makes electronic devices using its USB Type-C interface more resilient to harsh environments.
Compact shape and wide application
Finally, the fine shape also makes USB Type-C more adaptable to the trend of electronic products becoming thinner and thinner. Compared with the traditional USB interface, the 24-pin USB Type-C interface provided by TE can reach the size of 3 mm high and 8 mm wide, which is nearly half shorter in length and only one third to one half wider. As you can imagine, with USB Type-C, today's already thin "super-books" will almost certainly start a wave of "super-thin" war in the future.
These advantages make TE's USB Type-C interface dare to "go all over the world", whether in the most familiar consumer electronics field, or in the harsh environment of the home-owned industry and other fields, can be easily competent. At present, TE's USB Type-C interface can be widely used in factory automation, industrial machinery, data centers, medical devices, A/V digital switching, battery packs and chargers, automotive information entertainment, commercial equipment, lighting, tablet computers, personal computers and portable computers, wearable devices and smart phones.