Beijing East delivers the brightest earnings in the future.
Date:2019-08-15 Hits:46


Due to the overall warming of zero social consumption and the brilliant data of 618 this year, net income and adjusted net profit in the second quarter of Beijing East reached an all-time high, with the most concerned annual active buyer data increasing by 10.8 million quarterly, reaching 312 million. The improvement of category structure and scale effect enhance the company's overall profitability, and Jingdong once again handed in bright financial reports.


3C accounted for 60%, category structure improved and gross interest rate increased


Beijing East achieved net income of 150.3 billion yuan in the second quarter, exceeding the market's highest expectations and achieving a new high in single-quarter income. The 22.9% year-on-year growth is up from 21% in the previous quarter, reassuring those who had feared that growth would continue to slow down.


Among them, commodity income was 133.5 billion yuan, an increase of 20.8% over the same period last year, and service income was 16.8 billion yuan, an increase of 42% over the same period last year.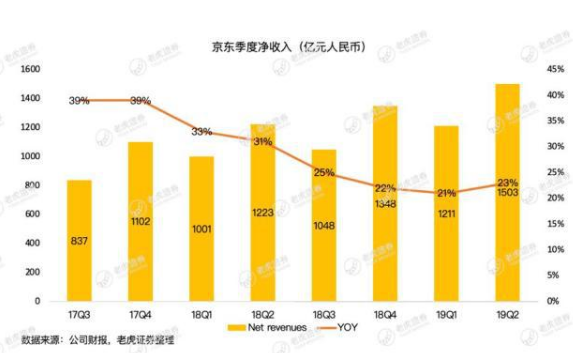 Separated by category, 3C household appliances contributed 89.5 billion yuan, accounting for 60% of the total revenue, and 44 billion yuan, accounting for 29% of the total revenue. In the past 618 quarters, the contribution of 3C household appliances to income is usually high, while the gross profit rate of 3C products is low, and the category is excessively concentrated on the gross profit level of 3C suppressing the company as a whole.
Tiger Securities investment team statistics found that in the past two quarters, the contribution of the 3C category to income has dropped to 60%, while the percentage of the day-to-day gross profit has increased to 30%, and the overall gross interest rate in Jingdong has increased to 14.7% compared with 13.5% in the same period last year. Due to the impact of 618, the current quarter was slightly lower than the last quarter, but with Ribai and service income growing faster, the Tiger Securities investment and research team expects gross interest rates to return to more than 15% in the next quarter and maintain growth.
The improvement of logistics efficiency and operation efficiency promotes the company's overall operating profit margin. The Tiger Securities research team found that positive operating profit margin has been achieved for two consecutive quarters.
Tiger Securities Investment and Research Team believes that overall, the scale effect and good efficiency of Jingdong enhance the overall profitability, which provides better guidance for the future. This year, Jingdong launched a thousand people information flow system to improve the sales conversion rate. From the cost indicators and profit margins, the future profitability of Jingdong is also good. Will want to continue to strengthen.
Shenzhen Yachuang Electronics Co., Ltd. is a manufacturer of mobile phone data line, specializing in the development, design, manufacture and sale of USB 2.0 data line, USB 3.0 data line, Type C data line, network line, data line and other connection lines. Has a complete and scientific quality management system, through the ISO 9001 international quality management system certification; National Consulting Hotline: 86-755-88210101~2